3 in 1 Ultrasonic Slimming Device
This product is currently sold out.
Get Rid of Cellulite at the Comfort of Your Home
Working out to sculpt your body but not seeing the results you want? Struggling to lose extra fat and/or cellulite?
Looking for an alternative to liposuction, extreme diets, or difficult exercises? The Ultrasonic 3 in 1 Slimming Device is the perfect way to supercharge the effects of a clean diet, proper skin care, and regular workouts is here. This machine shapes, tightens and slims your body from the comfort of your own home!
Benefits of 3 in 1 Cavitation Device: 
With its EMS fat cavitation system and latest infrared ray technology, our Ultrasonic Cavitation Device melts your fat away and restores your skin's elasticity. In addition, it is particularly effective in relieving body aches and pains such as chronic back pain and cramps. Finally, the cavitation device helps you to get rid of wrinkles by enhancing your skin texture.
Cavitation treatments at local beauty places can be pretty expensive for a single session. Why pay so much when you can have as many treatments as you want & from the comfort of your own home?
Features of the 3 in 1 Ultrasonic Cavitation Device: 
SLIMMING AND TONING - Ultrasound technology breaks down fatty tissues resulting in a naturally skinnier body
INFRARED THERAPY - Infrared light penetrates deep into skin which improves blood circulation
SKIN REJUVENATION - Helps activate skin cells and improves its elasticity
REGULATES - Aids the regulation of secretion and helps the body to burn fat faster 
TREATS PAIN - Effectively treats severe aches and pains
MICROCURRENT - Microcurrent technology stimulates the muscles and massages through excess fatty tissues and acids
5 MODES OF EMS (Tapping, Massage, Knead, Scrapping, Slimming)
HOW DO INFRARED SONIC WAVES WORK? 
The ultrasonic waves generate frictional heat which accelerates blood circulation, muscle relaxation, and decomposes cellulite to break down excess fatty tissue.
Microscopic bubbles within the fat cells that expand are formed
Pressure is produced that causes the fat cells to burst
This releases the fatty acids to be metabolized
NO HEAT is ever released; the whole process is based on frequency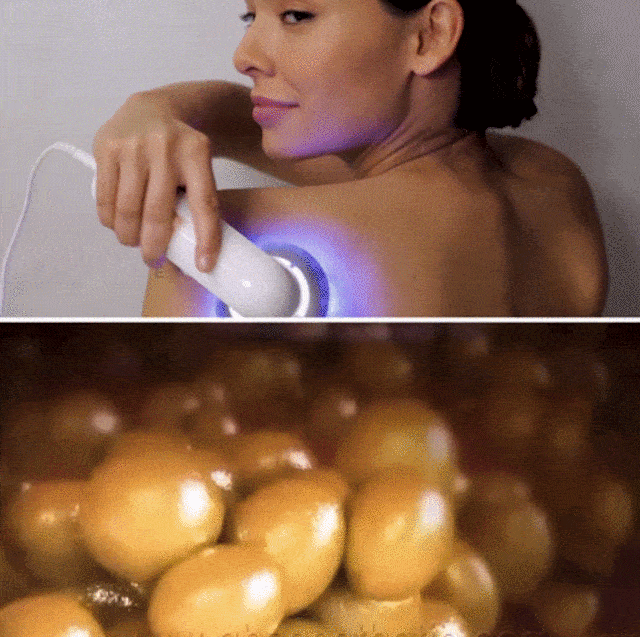 The Ultrasonic Cavitation fat and Cellulite Remover is the latest technology for fat and cellulite reduction producing low-frequency sound waves. Cool to the touch, this process targets the layer of fat cells below the skin's surface. Fat cells are broken down and eliminated by the body. Aches and pains are also reduced because of improved blood circulation. 
RECOMMENDED TREATMENTS: With 3 times a week, 10-25 minutes per session, you can see results & reduce cellulite appearance in just few weeks.
SHIPPING INFORMATION: Free Domestic Shipping (UK): Get your package in 3 to 5 business days
MORE INFO AND GUIDE: Please check out our more detailed guide before buying. As it has important information, contraindications and even videos! It is located under products second tab "Details" ↗️
Input: 100-240 Volts
Output: 15V 800mA
Power: 6 Watts
Ultrasonic Frequency: 1MHz
30 days warranty
Regular - Non retail box
The goods arrived quickly and while I can't see results yet (as I just started using it) the attention I got from Hannah was brilliant! ***** Her customer service was impeccable, answered all my questions and also, the collagen gel is a must!
I was worried that i didn't feel anything when using, but then came back and read you cant really feel ultrasonic waves and was relieved.
On the product, not an overnight process, but it definitely works!
I'm very satisfied, since I bought this unit I've been using it on my ache muscles and my back pain it works wonders!
Very helpful customer service, package arrived in like 3 days and while not a miracle, you do see results after a few weeks.
Don't forget to check their guide under the second tab (A little hidden, but helped me answering all my doubts.
Super quick to arrive, bought it because a friend recommended it. We'll be back to review later if that's possible.