Ultrasonic Skin Scrubber
This product is currently sold out.
ARE YOU READY FOR CLEAR AND GLOWING SKIN?
Nasty substances are invading your face non-stop. You just can't get rid of those whiteheads and comedones with cleansing foams. Makeup leftovers, excess oil and dirt are clogging your pores and causing skin problems 
The Ultrasonic Skin Scrubber is what many happy customers are using to "pearlize" their skin, so you would never think that they also suffered from:
Clogged Pores
Acne
Polluted skin
Blackheads and Whiteheads
Dull skin tone
Dry, flaky skin
Uneven texture
Excess Oil
Having a face covered in dirt, acne, blackheads, oil, and dead skin cells not only destroys your overall health, but it also alienates you, erodes your self-esteem, and causes additional stress in your life.
SAY GOODBYE TO COSTLY SPA TREATMENTS!
You can have your own home spa, without spending a fortune!
You don't have to waste time at beauty salons anymore!
You won't have to spend on creams and facials treatments to see if any of them work for you!
Get rid of peeling treatments that lead to inflamed or reddish skin!
Your skin is not a testing area! 
HOW DOES IT WORK?
Made with stainless steel blade, The Ultrasonic Skin Scrubber sends 30,000 Hz per second of ultrasonic waves that effectively loosen clogged pores and exfoliates the skin to remove dead skin cells, painlessly.
Facial skin scrubber takes advanced personal spa microderm system, effectively works electric spots suction for blackhead and acne removal. Micro-dermabrasion device exfoliates and re-surfaces the skin to promote skin health & facial renewal.
BENEFITS:
ULTRASONIC DEEP CLEANSING - High frequency ultrasonic oscillation technology is transmitted to the skin's surface delivering instantaneous pressure and vibration. It's able to penetrate skin 3-5mm, effectively removes blackheads, dead skin and dirt, allowing your skin to regain its clearness and cleanliness.
FIRMING AND LIFTING SKIN - Micro-current pulse technology can activate cell vitality, boost collagen regeneration, and help restore skin elasticity so that skin remains moisturized and firm. The device gently massages face and mobilizes subcutaneous muscles to help shape the facial contour.
HELPS SKIN TO ABSORB NUTRIENTS - High frequency vibration breaks down and refines larger molecules such as VC and collagen to help you massage your skin and easily absorb nutrients.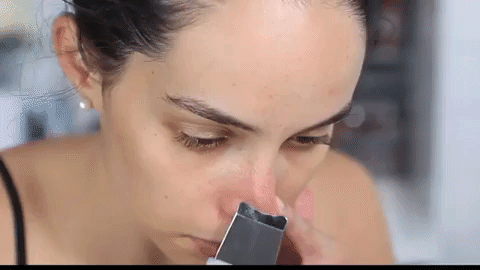 Note:

Do not use this device around eyes, injured skin, dermatitis caused by cosmetics, acne inflamed parts, or reshaping parts.
This device will have a low noise due to ultrasonic vibration, that is normal phenomenon, please feel free to use.
Do remember, this device must be used with cream or liquid, you can not use it under dry conditions.
Children, pregnant women,and severe heart disease patients can not use this device.
Please keep your hands dry when using this device
After use, please wipe the probe with a dry cloth, and disinfect it  with alcohol.
 How to Use:
STEP 1: Cleanse your face with a mild foaming cleanser to remove makeup and excess oil. 
STEP 2: Wet the face, turn on the HTS Scrubber and begin to gently exfoliate the skin and extract the pores. 
STEP 3: Dry the face, apply an anti-aging cream or serum to the skin. Turn on again and penetrate the cream or serum deep into the skin for maximum effectiveness.
Input: 100-240 Volts
Output: 15V 800mA
Power: 6 Watts
Ultrasonic Frequency: 1MHz
30 days warranty
Regular - Non retail box
This item is amazing! Very satisfied with the product :)
It's good value for money.
I'm a big skeptic, but after just a week, I've had noticeable results with this scrubber
Very powerful even in low level, just be careful :) but works well and gets results immediately.